WatchGuard Firewalls & Remote Access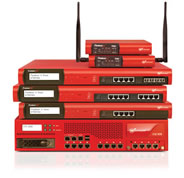 WatchGuard builds affordable, all-in-one network and content security solutions to provide defence in depth for corporate content, networks and the businesses they power. WatchGuard's award-winning Extensible Threat Management (XTM) network security solutions combine firewall, VPN, and security services to protect networks from spam, viruses, malware, and intrusions.
The new Extensible Content Security (XCS) appliances offer content security across email and web combined with data loss prevention for complete content protection. WatchGuard extensible solutions scale to offer right-sized security for small businesses up to enterprises with 10,000+ employees. More than 600,000 WatchGuard signature red security appliances have been deployed worldwide.
---
WatchGuard Security Appliances
When companies need proven network security solutions they turn to WatchGuard. We provide excellent reliability, service, support, and innovation for our customers, with a wide range of products to suit their specific business requirements.
WatchGuard® Next-Generation Firewalls (NGFW)
WatchGuard next-generation firewalls are designed for enterprises that can't afford downtime. They provide true line-speed security inspection on all traffic and support multi-gigabit packet filtering throughput, with full-box redundancy and unique drag-and-drop branch office VPN setup. These NGFW solutions deliver the powerful protection enterprises need, with unparalleled visibility into real-time and historical user, network, and security activities. They allow businesses to easily define, enforce, and audit strong security and acceptable use policies, resulting in increased employee productivity and less risk to critical intellectual property and customer data.
WatchGuard® XTM Series
The XTM family of network security appliances offers first class, performance-driven solutions for businesses. Blazing fast throughput combines with advanced networking features to handle high-volume traffic securely – and at an affordable price. Includes a suite of flexible management tools that allows IT administrators to manage security through an intuitive centralized console, command line interface, and web UI.Fourteen models to choose from. For small to mid-size businesses, from 50 users or fewer up to 4,000.
WatchGuard® XCS™ Series
WatchGuard XCS (Extensible Content Security) solutions, deliver the industry's most effective defense-in-depth spam and malware security for email, web and data loss prevention. These easy-to-use, all-in-one solutions offer the most effective defense from email and web-based threats including spam, viruses, malware, URL filtering, blended threats, spyware and network attacks. Choose from six different models to suit the unique messaging security requirements ranging from small business to the most demanding enterprise email and web networks.
WatchGuard® SSL
The WatchGuard SSL appliance is the most complete secure remote access solution in its class, allowing users to stay productive from anywhere, anytime. Easy to setup and use, with client and clientless access and the simplicity of single sign on. WatchGuard SSL security features include rigorous endpoint integrity checking and full session clean-up. Advanced access features include local authentication, as well as built-in and third-party 2-factor authentication support. Advanced productivity features include Java and ActiveX application delivery, along with access client support for 32 and 64-bit Windows XP, Vista and 7.